Category Archives:
Scrap Metal Dealer
Use the services of registered scrap metal merchants in Heswall to ensure that your scrap metal is ethically recycled.
Scrap metal buyers in Wallasey will accept your scrap metal pieces for a competitive price.
Get the best deals from the leading scrap metal dealer in Wirral at Murphy Scrap Dealers.
Did you know that authorised scrap metal merchants in Bebington will pay you for your scrap metal?
Use authorised scrap dealers in Padiham to assist you recycle all your scrap metal.
As scrap metal merchants in Wallasey, we have been providing a valuable service to our customers for over 50 years.
Registered scrap metal merchants in Port Sunlight can purchase all your scrap metal, including ferrous metals.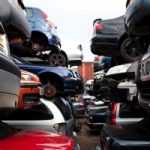 If you are looking for a scrap car Dealer in Oxton, look no further than Murphy Scrap Dealers.
Get in touch with the right scrap metal merchants in Oxton if you want to be part of the global multi-billion scrap metal industry.
You can find professional scrap metal merchants in Ellesmere Port at Murphy Scrap Dealers.