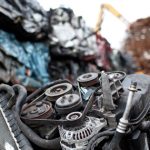 Choose established scrap metal yards in Oxton for an excellent service. When you have large amounts of scrap metal pieces that you'd like to dispose of, trust a well-established scrap metal merchant. We offer scrap metal services that are suitable for your specific needs. A family-run business for over 50 years, we continue to provide our expert services to both our existing and new clients. We also offer a vehicle scrapping service, one that will bring you peace of mind. Additionally, if you have scrap metal that you no longer ant, we can recycle it for you. On top of that, we pay good prices for your scrap metal.
Recycling your scrap metal is a responsible thing to do. In Oxton, scrap metal yards recognise the importance of lowering the carbon footprint. Recycling scrap metal is as important as any other type. If you have a business that generates large amounts of scrap metal, we will be happy to collect it from you. Furthermore, we offer scrap metal skips to ensure your scrap metal remains safely in one place before the collection day. Choose our vehicle scrapping service if you have an old vehicle that no longer runs. We can collect the junk vehicle from your property. We'll transport it to our depollution centre. Here we'll dismantle the vehicle and recycle all the usable parts.  Once the vehicle is scrapped, we'll send you a certificate of destruction. This means your vehicle has been responsibly and ethically scrapped.
Scrap metal yards in Oxton assist with making your scrap metal recycling easier and more convenient. We happily accept ferrous and non ferrous scrap metal, paying good process for the scrap. When you are looking for reliable and established scrap metal yards, contact Murphy Scrap Dealers. Choose a once off collection, or if you'll require a more regular collection service. We're happy to oblige. As such, we can tailor our services to meet your specific needs. Professional scrap metal yards are the perfect choice for your scrap metal recycling.