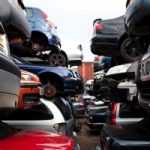 A scrap car dealer in Bebington has the experience and the knowledge to effectively scrap your old vehicle. Recycling is now a way of life and most people responsibly recycle their unwanted paper, plastic and glass. But what about your old car? No longer running, rusted and permanently out of order, it also needs to be recycled. That is where we can assist. Our team can assist with scrapping your old vehicle. It is easy to do. First, complete our online request form. Or, alternatively, give us a ring. We'll schedule a time that is most suitable for you.
As a registered scrap metal dealer, we are authorised to provide a vehicle scrapping service. In Bebington, a scrap car dealer will then collect your vehicle from your premises. Your old car is taken to our authorised depollution centre. Here your vehicle is dismantled. Our expert team will dispose of any harmful waste in an environmentally friendly way. Any materials part of your old car that can be recycled are, and any parts that can be reused are removed from the vehicle. Once this process is complete, we will send a certificate of destruction as confirmation that your car is legally and correctly recycled. The great thing about the certificate is that not only is it your proof of destruction, but also you'll be able to claim back any full months of road tax which were left of the vehicle. You are now safe in the knowledge that your vehicle is off the road and you are no longer responsible for it.
A scrap car dealer in Bebington takes recycling seriously. That is why we ensure all the scrap metal is recycled in an ethically responsible way. We pay good prices for your scrap metal. This is why, when you scrap your vehicle, not only are you correct in recycling it, but you will also get paid the value of the scrap metal removed from the vehicle. When you are looking for a professional and reliable scrap car dealer, contact Murphy Scrap Dealers. We are committed to providing the best service possible for all our customers.