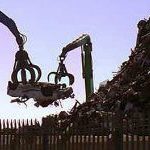 The world is constantly under construction and metal scrap yards in Meols is a part of that ongoing process. Maybe you think that's a magnanimous claim and you would be right. Scrap metals yards and their customers serve the important function of returning ferrous metals back into the raw material from which new products are made. It's an essential service that prevents our becoming buried under our own discarded products. Did you know that it is cheaper and more energy efficient to use recycled metals for new product manufacturing? It takes a lot of energy to mine new metals. Preparing raw metals for specific use is time and energy intensive. The finished product is more expensive to manufacture and therefore the consumer must pay more for it.
When you sell your scrap metal to us you likely free up space and best of all we pay you a fair price. In Meols, metal scrap yards have regular customers who make it a point to search out scrap metal. Don't take it without asking, of course, but it's good side money for ambitious people. For large collections from manufacturing companies or big clear outs, our team will collect your scrap metal from your site and pay you for the privilege. We see our scrap metal business as a giant circle that moves on supply and demand of recycled metals. Often metals are recycled many times over depending on how quickly they reach the end of their useful life. For automobiles, that is about every 10 to 15 years. Trains and train rails might be every 50 years and barges every 100 years.
The point of metal scrap yards in Meols is while the turnover rate varies, the scrap metal is always in play. We operate a licensed depollution centre so call us when you have a scrap car you want to sell to us. We will tow it away for you, pay you a fair price and provide you with a Certificate of Destruction. Most of a car is recyclable but they do contain a bit of toxic material that must be disposed of according to environmental laws. If you have scrap metal to sell, contact Murphy Scrap Dealers for current prices. We pay the highest possible prices based on the market.