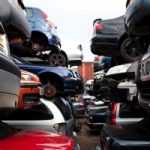 If you are looking for a scrap car Dealer in Oxton, look no further than Murphy Scrap Dealers. We are a leading name in the scrap metal industry and our experience stretches to over five decades. As a family-run business, we are committed to delivering exemplary services and our staff is friendly. Most scrap metal merchants frustrate clients by not offering assistance on collection. Scrap metals come in an assortment of both ferrous and non-ferrous metals. Sorting out the scrap can be daunting but with professional assistance, the process is simple. We offer all the assistance you need to clear the heap of scrap occupying your premises or the old car taking up space in your garage
Once your car has outlived its useful years, it can be sold off as scrap. In Oxton, a scrap car dealer is tasked to crush the car for recycling. Cars combine ferrous and non-ferrous metals in their build. We operate a depopulation centre that handles scrap cars. The centre has the latest cutting edge machinery to deal with scrap cars of any kind and it's fully licensed. It's also a high capacity centre capable of processing several scrap cars in a day. We remove all hazardous materials and salvageable parts from the car before commencing with crushing the car for recycling. The process is complex but we have all the tools to get the job done quickly and efficiently.
A scrap car dealer in Oxton helps in conserving the environment. Numerous industries take scrap metal for application in the manufacture of new products. As scrap metal merchants we collect scrap metal, sort them and sell them in the scrap metal market. The market is highly volatile and prices depend on the supply and demand forces. However, we deal with reliable suppliers and stakeholder, therefore, we offer some of the best deals for both ferrous and non-ferrous metals. Contact us today and get the best deals on your scrap car. We only offer quality services. If you want a scrap dealer you can trust, Murphy Scrap Dealers is the go-to dealer.