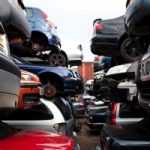 If you're looking for a scrap car dealer in Bebington, Murphy Scrap Dealers have what you're looking for. We have been established for more than five decades and our family-run business endeavours to put the needs of the customer first. We deal with both ferrous and non-ferrous metals so you need not worry about sorting out your scrap. We also deal with end of life vehicles at our depopulation centre, helping you get rid of that old car and keeping your environment safe. We keep our business in check by making sure we have the best tools to help us carry out the task at hand and having our yard fully licensed has enabled us to keep our business legitimate.
Even when you're not sure about what to do with the scrap metal you have lying around, it is better to let the experts handle it. In Bebington, scrap car dealer will take care of pick-ups as well in case you can't come to the yard yourself. The car scrapping process is simple. In order to let us know what you need, all you'll have to do is fill out a form that can be found on our site. Once we are aware of your requirements, we'll arrange to collect your vehicle at the most suitable time for you. We then take your vehicle to the depollution centre and proceed to safely dismantle it. While this is being done, we ensure to get rid of any harmful substances in an environmentally friendly manner.
Additionally, our scrap car dealer in Bebington will separate the recyclable metals and those that can be re-used so that nothing goes to waste. To legitimise the whole process, we'll present you with a Certificate of Destruction. With carefully thought out processes such as this, you'll want to contact Murphy Scrap Dealers today and let us handle your scrap. It's a simple process that we can handle. We also have skips in various services available and suitable for your business premise. We also have on-site skip services available for various sectors, both domestic and commercial alike.