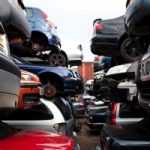 Get rid of that old car with help from a scrap car dealer in Port Sunlight. Sentimentality can be a major driving force in your life. You may wake up one day and find that you still own a vehicle that may be older than you, or even your child. When you ask yourself why you still have it, a plausible answer may simply be the memories that it holds. It could be the first car that you were able to afford, or it could be the car that you were using during that tough but hopeful period in your life as you were trying to make something of yourself. It could also be something as far from glamorous as you simply could not afford to buy a new car for a very long time. Whatever the case may be, now that it is time to get rid of it, you must find the best method.
For your old junk car in Port Sunlight, a scrap car dealer will ensure that all parts of your car are recycled. Scrap car dealers purchase and take in cars that have exhausted their useful period and dismantle and repurpose the parts. These repurposed parts could be useful in terms of spare parts for other vehicles, or the recycling of the metal for re-use in other areas. All in all, recycling vehicles has become more prevalent in recent years, and the process more depended upon in order to do away with old cars.
Instead of abandoning your old car somewhere it will surely become an eyesore, why not take it to a scrap car dealer in Port Sunlight? You don't have to look very far to find a reputable dealer. Simply contact Murphy Scrap Dealers to collect your vehicle. We purchase old cars and then take them through an extensive and comprehensive recycling process. We provide you with a certificate of destruction that you can keep for your records as proof that your vehicle was safely eliminated. We are your best option for the safe, and environmentally conscious disposal of that old car you have lying about.