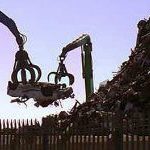 The best scrap metal merchants in Wallasey are those that accept and deal with both ferrous and non-ferrous metals alike. They will make getting rid of your broken-down vehicle much easier and make the process less of a hassle than it has to be. Additionally, they are flexible in acquiring the scrap metal. This means they have a solution in case you are not able to make the drop yourself. Usually, this entails using a skip and picking up the batch from a location that's convenient for you as an individual and even businesses. Moreover, they'll buy the scrap from you at reasonable and competitive prices, ensuring you'll receive a great deal, considering the constant fluctuation of scrap metal prices that happens daily. You'll find such reliable merchants at Murphy Scrap Dealers.
We offer services related to ferrous scrap metals and always strive to meet customer satisfaction. In Wallasey, scrap metal merchants offer a car scraping service and deal with end-of-life vehicles at our depollution centre. We have a fully licensed yard that enables us to do so, meaning we keep to the guidelines stated for handling such procedures and do so in a manner that does not harm the environment. We offer a free collection service so if you can't deliver the vehicle or scrap metal yourself, don't worry too much about it. We have skips of various sizes available that can be placed in convenient locations for both domestic and commercial use. We also have one available on site, as well as crushing facilities and a weighbridge. Having been in the business for more than 50 years has helped us improve and build a reputation in delivering outstanding service.
There may be a number of scrap metal merchants in Wallasey, but no on comes close to Murphy Scrap Dealers. Contact us today and find out how we can work together for your benefit and for the good of the environment. We are constantly on the lookout for how to improve our services and keeping our reputation. This is why we do not take our recommendations lightly.