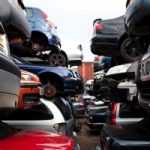 As almost all vehicles have a lifespan and when they stop working it is time to find a scrap car dealer in Bebington.  All that is needed is the V5 or logbook as this is the official document of ownership. There are as many as two million cars scrapped each year in Britain. There are strict rules that need to be adhered to when disposing of an old car. It is a legal requirement that any car sent to be scrapped must go to an Authorised Treatment Facility. Car scrap yards must have a license issued by the Environmental Agency to ensure that the scrapped vehicle does no harm to the environment. Battery acid, engine and gearbox oil must be recycled appropriately.
We are one of the authorised scrap car dealers in Bebington. Not all dealers are authorised to scrap cars and you may be left with problems to contend with like speeding fines and road tax for a vehicle you no longer have. We can collect your vehicle if it no longer runs. The scrap car is taken to our authorised depollution centre where it is properly dismantled and the various parts of the car are recycled. We have crushing facilities at the yard to compact the usable metal from the car. We have been in the scrap metal industry for over 50 years. Payment is usually made by check or a deposit into your bank account as it is illegal to pay cash for old cars.
We help you to safely recycle your old car. The relevant part of the V5 must be sent to the DVLA which will confirm that you no longer own the vehicle. We send a certificate of Destruction to you to confirm that the vehicle has been scrapped. Contact Murphy Scrap Dealers for the best price on your old car. We are a family run business and have a reputation for delivering an outstanding level of service. We can be relied upon to dispose of your old car in a responsible manner.