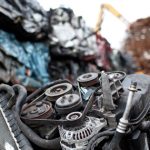 If you're searching for reputable scrap metal merchants in Eastham, your search can stop with Murphy Scrap Dealers who allow their customers an easy way to make some extra cash. Anything metal that is damaged and of no use to you can be sold as scrap metal. Our scrap yard is full of all kinds of ferrous scrap metal. When it comes to scrap dealers, the saying 'One man's trash is another man's cash' certainly applies, and a scrap yard like Murphy Scrap Dealers can pay you good money for your scrap. We're in Birkenhead and offer our services which are related to ferrous scrap metal. Our customers always want to know what ferrous metals are. Ferrous metals contain iron while non-ferrous materials don't.
Ferrous metals make up the most recycled materials in the world and we're part of the recycling process. In Eastham, scrap metal merchants who are worth their weight in gold will collect your end of life cars for scrapping and recycling. We then take the scrap to our licensed Birkenhead Depollution Centre where it is crushed and sorted. We offer a free collection service too for your convenience. Ferrous metals include the likes of stainless steel, cast iron and wrought iron and because of their high amounts of carbon they are vulnerable to rust, except for wrought iron and stainless steel which resist oxidization. Most ferrous metals also have magnetic properties.
Scrap metal merchants in Eastham like us are worth considering. You need experience to be in the scrap metal business and at Murphy Scrap Dealers, we have more than 50 years of experience behind us. We're a family run business and we can rid you of your ferrous metal scrap and make it useful once again. When you are looking for scrap metal merchants, contact Murphy Scrap Dealers. We will turn your scrap into worthwhile cash.