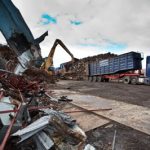 If your company generates ferrous scrap metal then you will be looking for scrap metal yards in Oxton. We can offer your company a range of collection services from skips to larger bulk tippers or low loaders. We can arrange a schedule for collection if you produce a regular amount of waste or scrap metal. If you are just having a cleanup of the premises we can collect your scrap when you are finished. We pay the best prices all ferrous scrap and provide an excellent service for both new and existing customers. We would be delighted to place a skip in your factory yard.
When your car reaches the end of its life you need to dispose of it. In Oxton, scrap metal yards will collect your car and issue you with a certificate confirming that your vehicle has been properly disposed of. We work within the end-of-life vehicles regulations as proscribed by the government. This entails sorting the various parts of the vehicle which could contain hazardous materials before crushing the ferrous shell of the vehicle for recycling. All reusable parts of the car are sent for recycling to ensure that there is no pollution of the environment. The scrap is sent to smelting plants that transform the cars into usable steel and up to 25 % of new cars contain recycled material.
If you need reliable scrap metal yards in Oxton where you are paid the best price for your steel and iron then call us. Contact Murphy Scrap Dealers today and we will send one of our vehicles to collect all your old scrap. We have been established in the scrap metal industry for over 50 years and in that time we have gained a well deserved reputation for honesty and trustworthiness. We are a fully licensed yard with de-pollution equipment and offer a free collection service. If you are transporting your own waste to our yard we have two 50 tonne weighbridges which means no waiting.