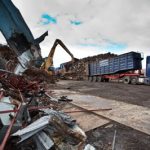 Are you looking for professional scrap metal dealers in Oxton that will pay reasonably for your scrap metal? Murphy Scrap Dealers is your solution. They buy all kinds of ferrous scrap metal. Whether you have scrap steel or scrap iron, all you need is to call and they will come to your site. Do you have a scrap car that you wish you had somewhere to dump? Why not allow these experts to clear it from your yard? They will happily do that for free after you have sold the scrap to them. In that case, you benefit twice. Their scrap car collection service can be adjusted to suit the time that works for you.
For residents in Oxton, scrap metal dealers have an authorised depollution centre. Murphy Scrap Dealers has it all. A depollution centre is where scrap vehicles will be dismantled, and any recyclable parts can be re-used. They have the equipment to collect any load size, whether big or small. For scrap collection services this ranges from low loader, bulk tipper, Arctic to skip hire. Do you want a regular or a onetime service? Anything you have they will collect. What put them in front is the way they handle scrap metals and end of life cars. They do it in an environmentally friendly manner as well as very effectively. They also do not waste time at your site during collection because they are experts.
You do not only need to think of professional scrap metal dealers in Oxton when you have a huge amount of metals at your place, they must be authorised too. If you are looking for professional scrap metal dealers, contact Murphy Scrap Dealers today. Murphy Scrap Dealers are authorised and have all it takes to facilitate a pollution free disposal for all end of life vehicles and scrap metal. Their prices are fair and their service is professional, friendly and efficient.