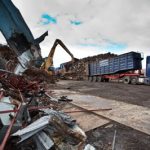 Scrap prices in Greasby are so affordable that you can de-clutter your place and put some money in your pocket. When you start separating scrap metals, it's a good idea to separate them according to whether they are ferrous or non-ferrous metals. Ferrous metals are the ones that a magnet will cling to. Don't worry if you don't recognise the different types of metals because at Murphy Scrap Dealers we know aluminium from copper, brass, steel and other metals. We're a scrap metal dealer in Birkenhead and collect ferrous- and non-ferrous metals for which we offer a collection service which is totally free. We do everything reliably and professionally and we are always looking for old, end-of-life vehicles. We've got a fully licensed yard with de-pollution equipment. We're a family run business with more than 50 years of experience with recycling of scrap.
People are getting serious about only dealing with environmentally friendly businesses, and we deal with all our end of life vehicles in an environmentally friendly manner. In Greasby, scrap prices are good and we even offer a free collection service to our scrap yard where we have our crushing facilities. Check out our scrap prices for our skip hire service. This is for the storage and transportation of these scrap metals and the skips are available in different sizes to suit your scrap metal volumes. You can choose skips to hire on a temporary or long-term arrangement.
Included in our scrap prices in Greasby is our depollution certificate to verify that your vehicle has been scrapped in a lawful manner. To find more about our scrap metal prices, contact Murphy Scrap Dealers. We offer you good prices for your scrap metal and the best part is that with our recycling process we know we're doing our bit. We offer our more environmentally friendly recycling method to help reduce the need to mine new materials. Get rid of the scrap metal taking up valuable space and rely on Murphy Scrap Dealers for excellent crap prices.