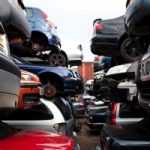 When choosing from scrap metal yards in Moreton the choice is easy. At Murphy Scrap Dealers we accept steel and ferrous metal. You may wonder what the difference is between ferrous metals that we accept and non ferrous metals that we do not accept. Well, ferrous metal contains iron and nonferrous does not. For instance, precious metals like gold and silver do not contain lead so they are non ferrous. Other nonferrous metals are aluminium, brass, nickel, copper, tin, zinc and lead. Ferrous metals with their significant iron content is in demand. The industry has been recycling ferrous metals for 150 years because it is cheaper to recycle than to mine more ore. The industry's annual energy consumption is decreased by 75% through recycling. We think that is amazing and a real source of pride.
Garages, towing companies, auction houses and private citizens can bring their end of life vehicle to us. Or if needed we can collect it for you. In Moreton, scrap metal yards have to be an authorised depollution centre in order to take the car apart and remove toxic waste materials in an environmentally safe manner. Everything else is recycled. Once you receive a Certificate of Destruction (COD) you are no longer responsible for that car. That document is important to owners because if they don't deregister the vehicle they are still liable for it and can be fined.
We are one of the largest and longest established scrap metal yards in Moreton. We have been here for fifty years and our reputation for fair prices and outstanding customer service is a source of pride for us. We want to make collecting your scrap metal as easy as possible for our customers so contact Murphy Scrap Dealers and arrange to have a skip placed at your place of business or an end of life vehicle towed to our yard. If want to make the whole process trouble free for our customers. At Murphy's Scrap Dealers we want your scrap metal so we pay a fair price when you bring in or when we collect it for you.