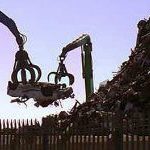 Look for scrap metal merchants in Chester when you need to get rid of metal on your property. Some merchants will take old vehicles in addition to regular scrap metal. You can easily clean up your yard if you have metal junk laying around. If you have a business, and your property is cluttered up with old scrap metal, it is probably an eyesore to your neighbours. Scrap metal merchants can haul it away, making your property look neat and tidy.
Scrap metal that is lying around is both unsightly and dangerous. In Chester, scrap metal merchants can remove the unsightly pile of scrap metal. Murphy Scrap Metals is a highly regarded scrap metal merchant.  We are based in Birkenhead and offer services for ferrous scrap metal. We have a depollution centre where we handle vehicle recycling.  Our collection service is provided free of charge. We are a fully licensed yard with depollution equipment, and crushing facilities. We are equipped with a 2 x 50 tonne weighbridge and an onsite skip service. We have been in the scrap metal business for over 50 years, so let our experience help you get rid of scrap metal in the most environmentally friendly manner. Known for our excellent customer service, a lot of our business comes from referrals.
Scrap metal merchants in Chester will purchase steel scrap, ferrous metal scrap and end of life vehicles. For more information about reputable scrap metal merchants, contact Murphy Scrap Metals. Call us and let us know how we can help you. We take metal from heavy machinery, shearing, light iron, cuttings, swarf borings, car engines, construction scrap, cast iron, wrought iron, and more. Let us know what you have and we will come and pick it up.