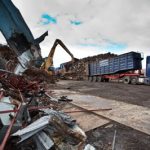 Scrap yard prices in Moreton are very reasonable, and customers are grateful that all kinds of metals are picked up, processed and recycled, keeping their environment free of scrap cars and other metal debris. Murphy Scrap offers useful services related to ferrous scrap metal. As a family run business, they have been in the scrap metal industry for more than 50 years and  look out for vehicles for recycling. What is really beneficial is that they offer a free collection service too, taking the scrap metal to their neat licensed yard with depollution equipment. Situated in Birkenhead, their depollution centre takes in all end of life vehicles as well as all kinds of ferrous scrap metals such as scrap iron and steel.
For customers in Moreton, scrap yard prices include being issued with a Certificate of Destruction. This means that all responsibilities of having your name linked to a dangerous car on the road are relinquished. If you want your scrap car to be removed by Murphy Scrap, you simply have to fill in their online request form and they will collect it for you. At the depollution centre, they take your car apart and all harmful waste is dealt with in an environmentally friendly way.
Scrap yard prices in Moreton are so affordable that the scrap yard is continually being emptied of its products. Contact Murphy Scrap today to find out more about scrap yard prices. Murphy Scrap is a recycling center that buys and sells scrap metal. They accept all ferrous scrap metals such as steel and scrap steel. Wrought iron, car engines, construction scrap and grey iron cast are but a few of the scrap metals Murphy Scrap is happy to purchase. Take your scrap metal to them today and receive top prices for the scrap.