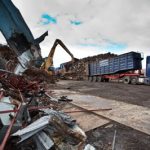 Murphy Scrap Dealers wants you to know that there is scrap metal wanted in Oxton. We deal in ferrous scrap metal and have done for 50 years. Ours is a family owned business and over the last 50 years we have acquired an excellent customer service reputation. We take pride in our reputation and we constantly strive to maintain and improve on it. We also offer a car scrapping service and deal with end of life vehicles at our depolution centre.
At Murphy Scrap Dealers, we are not too proud to say that in Oxton, scrap metal is wanted and appreciated at our scrap yard in Birkenhead. We want it for the same reason we have always wanted it; we have buyers for it that recycle scrap metal and sell it to manufactures to make more products. We are proud to be in a business that is environmentally friendly and helps protect our natural resources. You should feel good every time you bring ferrous scrap metal to us because you are doing a good thing.
Murphy Scrap Dealers has put out the word that, "Scrap Metal is Wanted in Oxton". Scrap metal is always wanted, so contact Murphy Scrap Dealers. We collect three different ways. Individuals pick up and save scrap metal from their home, with permission from work or just junk they found lying around. When they get a box full, they bring it to us and we pay them a fair market price. If there are junk cars that need to go, call us and we will haul them away to our depollution facility. If your business accumulates a lot of scrap, call us and we can put a skip out to collect your scrap and we will pick it up and switch it out with an empty one on an appropriate schedule.