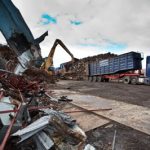 Murphy Scrap Dealers, scrap metal merchants in Moreton, deals in all ferrous scrap metals. If you have scrap metal, old equipment or cars, call us. We can give you the price per pound. One query we often get is the difference between ferrous and non-ferrous scrap metal. Some scrap yards deal in both but here at Murphy we stick with ferrous. Ferrous metals contain iron. Because iron contains carbon, it tends to rust. These are the heavy metals used to build tall skyscrapers, bridges, army tanks, cars and railroad tracks. It is heavy and strong.  Non-ferrous metals, like gold, copper and aluminium are lightweight and used in products needing strength but not weight. They do not contain iron so they do not rust.
In Moreton, scrap metal merchants Murphy Scrap Dealers deal in ferrous scrap metals because the supply and demand for it is plentiful. As it is the most common building material, our society uses a lot of it. We also reuse a lot. It is the most recycled material in the world. A billion plus tons of steel is produced every year. Millions of those tons are made from recycled scrap metal. We offer a range of collection services for any size load. Our collection service is free to the customer. We can do a one-off collection or set a regular pick-up service.
Murphy Scrap Dealers, scrap metal merchants in Moreton have been in the scrap metal industry for fifty years. We have a depollution centre that allows us to scrap old cars. We strip and recycle the metal and any reusable parts from the old cars. The remaining toxic materials are disposed of in an environmentally safe manner. Call us to schedule a time to pick up your old car. You will receive a Certificate of Disposal, which relieves you of any further responsibility or liability for the car. You can use it to claim back road taxes. At your request, we will provide a depollution certificate verifying the vehicle was scrapped in a lawful and environmentally safe manner. It will aid you in proper de-registration of a vehicle as the last owner. To find out more about scrap metal merchants, contact Murphy Scrap Dealers.