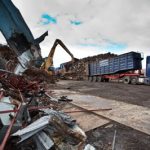 Get rid of your scrap for money in Eastham, rather than just dumping it. If you have scrap metal or an old car sitting around taking up space and making your property look trashy, you can call a scrap dealer and potentially get money for your scrap. You will also be able to improve the appearance of your home or business by getting rid of the scrap. Locate a ferrous scrap metal collector and call to find out what they will offer for your scraps. Ferrous metals contain iron, or alloys of iron like stainless steel.  It includes things like heavy machinery, shearing, light iron, swarf borings, car engines and lorry engines.
In Eastham, scrap for money is available through Murphy Scrap Metals. They take steel scrap, and ferrous metal scrap. Their depollution centre allows them to deal with end of life cars and vehicles effectively and in an environmentally healthy way. If you want to scrap a vehicle, simply fill pit a vehicle collection request form. They will give you a Certificate of Destruction so you are no longer liable for the automobile. They have a free collection service. Murphy Scrap Metals has a crushing facility, a 2×50 tonne weighbridge and an onsite skip service.
When selling scrap for money in Eastham, Murphy Scrap Metals is the best place to call. It is a family owned and operated business that has been around for over 50 years. They have an impeccable reputation for honest, high quality customer service. If you would like to find out more about getting rid of your junk scrap, give Murphy Scrap Metals a call. They will help you get rid of it in the proper way, and you can make a little bit of extra cash while doing so. Don't let the scrap metal lying around your yard continue to take up space, contact Murphy Scrap Metals for scrap for money.