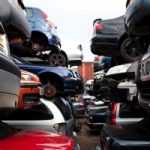 If you are looking for the best scrap metal prices in Bromborough, get in touch with Murphy Scrap Metal, a family run company that has been in the scrap metal business for over 50 years. With family values, Murphy Scrap Metal has built a loyal and considerable customer base. The company also offers environmentally friendly car scrapping services that will help you get rid of an unwanted vehicle. The company owns a fully licensed yard with de-pollution equipment, several crushing facilities and two 50 tonne weighbridges.
In Bromborough, scrap metal prices are best at Murphy Scrap Metal. The company's other services include: free collection, on-site skip, and skips for every size and any place. With such an offer it's easy to see how Murphy Scrap Metal has managed to become a leader in its industry. The car scrapping process starts with the client filling in a vehicle collection form. The company then collects the vehicle and takes it to its authorized depollution center. The vehicle is dismantled and any waste that is harmful to the environment is safely disposed of. Any recyclable materials are removed and saved for later use. Once the job is done, the client will receive a Certificate of Destruction, which specifies that he is no longer responsible for the vehicle. All that's left is for the client to claim back any full months of road tax that were left on the vehicle.
Murphy Scrap Metal is the company to call for the best scrap metal prices in Bromborough. The company buys all ferrous scrap metals including scrap steel and scrap iron. If you have any cast iron, wrought iron, marine engines, lorry engines, cuttings, light iron, heavy machinery, cylinder cast, grey iron cast or car engines that you need to scrap, Murphy Scrap Metal is the place to take them. To find out more information about scrap metal prices, contact Murphy Scrap Metal today.