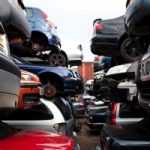 A scrap car dealer in Meols plays an important role in keeping the environment free of junk cars that have are no longer roadworthy. Disposing of your old vehicle is so easy that it is just one less hassle in your life. Murphy Scrap Metals is a scrap car dealer offering services related to ferrous scrap metal. End of life vehicles are their forte and they ensure the entire process is done smoothly and in a stress-free way. You don't have to scratch your head wondering how you are going to get your scrap car to their depollution centre either, as they do that for you. This service is totally free and they time it to suit you. In fact, whatever scrap metal you have, they will collect it on a regular service or once-off with their range of collection vehicles.
In Meols, scrap car dealers at Murphy Scrap Metals do everything in an environmentally friendly way. All harmful waste is correctly disposed of and parts of the car that can be recycled and re-used are removed. If you require, they will also provide a depollution certificate which verifies your car was scrapped in keeping with the law.
A scrap car dealer in Meols always has proper crushing facilities with on site skip services available. You can trust Murphy Scrap Metals. With more than 50 years of service behind them, you can trust the solid reputation they have built up. Decades of service show that they are doing something right and they gain new business through word of mouth. With a long-standing car scrapping service that deals with end of life vehicles in Birkenhead, their fully licensed yard with de-pollution equipment means that you are able to prevent your vehicle from becoming another unsightly piece of scrap littering the countryside. For information about a reliable scrap car dealer, contact Murphy Scrap Metals.