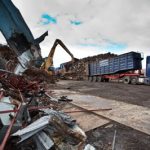 You will find scrap metals everywhere and you could always get scrap metal buyers in Port Sunlight to help you clear your backyard or that vague area that people have used as a dumping land for all their unused materials.Even if you have an old car, an engine, an old ferrous appliance or a cabinet, you could always make some money out of these. You will need to find a company that will provide you with good value for the items that you do not need anymore. On top of that, make sure that you look for an environmentally-conscious company that will dispose of the items responsibly.
In Port Sunlight, scrap metal buyers are Murphy Scrap Metals. They are a family-run business that offer a wide range of services to the inhabitants of the area. Once they have collected the scrap metal and other materials, they will then send these to their depollution centre where the items are depolluted before they are disposed of. One of the most common questions that the company receives is regarding the types of metals and products which they accept. A potential client wanted to know if Murphy Scrap Metals would be interested in collecting the engines of some heavy machinery which were now obsolete. The client wanted to get rid of the engines and other materials in his yard where they have been for a couple of months. The company informed him that they would be more than happy to collect them.
Scrap metal buyers in Port Sunlight can be contacted for a timely and professional collection, regardless of the kind of scrap metal you would like removed. Murphy Scrap Metals is a reliable company that is committed to providing the best service to their clients, new or returning. Please note that the company is always on the lookout to collect old vehicles and their collection service is completely free. If you are on the lookout for scrap metal buyers, contact Murphy Scrap Metals.