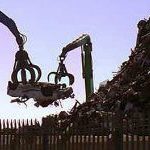 Scrap metal prices Neston at Murphy Scrap Metal offer some of the most competitive prices for scrap metal in the area.  Whatever your scrap, Murphy Scrap Metal can weigh it in and offer a competitive market price.  If you are considering scrapping a vehicle, they are registered with the DVLA so you can rest assured that correct paperwork will be completed, including the destruction certificate to prove transfer of ownership and to allow you to claim back any unused road tax.
Neston scrap metal prices at Murphy Scrap Metal dispose of all scrap metal using a depollution centre approved by the Environment Agency and have an environmentally sound practice.  Murphy Scrap Metal have over 50 years of experience in the scrap metal business, so you can be sure you receive a professional service. Everyone at Murphy Scrap Metal are proud of their reputation as a family run business.
For scrap metal prices Neston, Murphy Scrap Metal accepts all types of steel scrap metal and ferrous metal scrap but if you are unsure about your scrap metal, why not give them a call before you visit and they can offer expert advice. Murphy Scrap Metal have a good reputation in the North West and deliver an outstanding level of service to their customers. Their services include a scrap car service including collection of your vehicle, skip hire of any size, crushing facilities and 2 x 50 tonne weighbridges so call them now for the best quote for scrap metal in the North West.